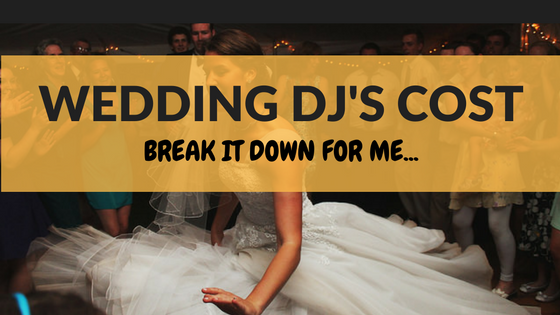 First time planning a wedding? If so, do you know the average cost of wedding DJs? Well you know one of the most important decisions you have to make besides booking a venue and picking a wedding dress is procuring the entertainment (DJ). That said, just how much does a wedding DJ cost? The average cost of wedding DJs in the United States is about $1100. For most… that price is well within the budget; however, for others, they simply can not justify paying that amount.
So what are the factors that actually go into pricing to help you better understand the variation of being quoted $300 vs. a quote north of $1100? Needless to say, you'll be quite shocked at the many factors that go into a quote – so without further ado let's get into it.
Business vs. Hobby
First and foremost a $200 – $300 quote is typically from the likes of an amateur, most likely a part-time DJ performing a hobby. $400 – $600 tend to have more experience than the beginners, but most likely a part-time DJ. $1,000 – $2,500 are your most experienced, professionally trained, full-time DJ. Now your decision should not be limited to budget, but more importantly the experience you'd want at your wedding reception.
DJs that operate as a business use a percentage of their pricing to cover the salary of other staff members, or have systems in place to ensure seamless communication with clients. From the initial consultation to all of the prep work that travels well into the day of the wedding. Most DJ's offer wedding packages, which usually includes standard sound equipment, microphone, extensive music library, and lighting equipment. Additional services are often available upon request for an additional fee.
Man Hours
There are many hours of work that goes well beyond the scope of performing for a wedding reception. For example, your DJ has to travel, set up, perform at your reception (in most cases, set up and perform for both the wedding and reception) then break down and pack up. In other words – your DJ is essentially the first one in and the last one out. So even if you're technically paying for your DJ to perform for four hours during your reception, the job can easily be deemed as a full day's work.
New Equipment & System Maintenance
Did you know that new DJ equipment
is introduced to the market literally almost every day? So, to stay relevant… it is imperative to constantly invest in the most up-to-date DJ equipment on the market in a continuous effort to best serve clients. State-of-the-art equipment is far from being cheap and could become quite a nuisance for costly repairs. Which is why equipment is constantly being maintained to circumvent any foreseeable hiccups during a performance.
Music & Subscriptions
A Dj's most prized possession… believe it or not, is not the equipment – it's his/her's music. Seasoned Dj's took years, in some cases decades to build their libraries. To keep those libraries current requires various resources… some free, but mostly through paid subscription services.
Maintaining videos is an additional cost requiring additional resources (mo money). The bottom line is that you'll want to make sure that your DJ has instant access to the many songs you have throughout your music playlist, in addition to hundreds of other songs that you or your guests might request later.
Other Operating Costs
There are the obvious costs of paying rent on office space, in addition to maintaining a website and having a business license which all applies to a wedding DJs cost. But there's also the cost of advertising and marketing materials (e.g., business cards, flyers etc…). Some venues even require DJ's to have liability insurance.
Oftentimes, a DJ not only provides the music but also acts as a master of ceremonies. For this reason, it's important to choose someone who has a personality that suits your wedding style. The American Disc Jockey Association says DJ rates vary based on experience, emcee ability, equipment, music knowledge, and personality.
So, as you can see… there is a lot more than what meets the eye. And I hope that I was able to shed more light and help justify the investment for one of the most significant pieces of your special day… having top notch entertainment for your wedding without worry about the wedding DJs cost.
Average Cost Of Wedding Djs – Wedding Dj Cost For Entertainment