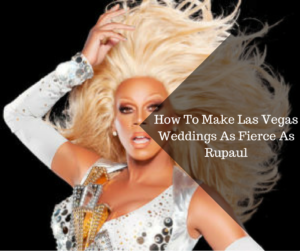 There is nothing like getting married in Las Vegas
. Sin City has an energy that no other city can claim as its own and that makes it the perfect place to have a truly hot, unforgettable wedding. With a few steps it is easy to explain how to make Las Vegas weddings as fierce as RuPaul!
Thousands of weddings take place in Las Vegas every year and each one appears to be more unique than the last. For Las Vegas weddings that RuPaul would be proud of, you'd have to go above and beyond traditional wedding plans.
The number of venues you have to choose from for your Las Vegas wedding is nothing short of stunning. Almost anything you can dream up can be turned into reality in Las Vegas. And the ways in which you arrive at and/or leave your chosen venue can help make your wedding among the hottest in town.
Most couples arrive separately for their wedding and depart together, in a vehicle, be it car, limo, or other transportation. While there is nothing wrong with this it is certainly not the way to make a splash on your wedding day. However, a creative way to leave your venue, if not arrive at it, is to take off in a helicopter. This is so far from a typical entrance or exit that your guests will be dazzled by something that would otherwise be a more ordinary part of the day. And there is nothing better than a helicopter tour of the Grand Canyon to end the most perfect day of your life in one of the fiercest ways possible. 
Another alternative to the traditional wedding is to exchange your vows on board the Treasure Island Hotel & Casino's very own pirate ship. Though RuPaul is far from being a pirate, she would likely appreciate the ferocity you would display by being bold enough to get married at such an untraditional wedding venue
.
If that isn't fierce enough for you, consider holding your Las Vegas wedding at the famed Gun Store, located in the city's East Valley. This takes the term "shotgun wedding" to a new level and while it might not be the most desirable place to get married, it is certainly one of Las Vegas's most memorable wedding venues to those who have tied the knot there. You'll end your wedding day with a round of ammunition to help you and your new spouse start your new life together. If you spend a few dollars more you can upgrade to the Mr. and Mrs. Smith & Wesson pack and have double the ammunition at your disposal.
For most Las Vegas weddings, you really have to consider venues that yield a truly memorable ceremony e.g., Kiss Monster Mini Golf, the Mob Museum and even the Grand Canyon itself.
All it takes is some imagination and lots of creativity for you to have a wedding in Las Vegas that no one could ever possibly forget.
Do Vegas Your Way with Up to 40% Off on Expedia!
How To Make Las Vegas Weddings As Fierce As RuPaul