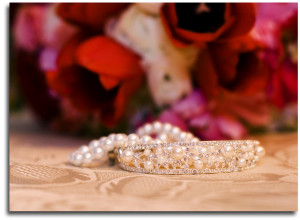 A Wedding Jewelry Set Makes a Bridesmaid More Beautiful
The gorgeous appearance of a bridesmaid is similarly important in a wedding ceremony, as she accompanies the bride, walking up the aisle to the dais where the marriage takes place. Therefore, it is necessary to adorn her with a beautiful dress and matching bridesmaids jewelry sets, which will also serve the purpose of a special gift bought for the young bridesmaid on this occasion. As normally the sisters or close friends of the bride are chosen as the bridesmaids, their gifts are chosen with similar care and importance, as done in the case of shopping of the bridal dress and accessories.
There are few important points which are needed to be taken care of, when it is time to buy bridesmaids jewelry sets.
Go with the gown of the bridesmaid: Firstly, it is preferred that the bridesmaid sport the jewelries that match perfectly with the special bridesmaid dress, which she will be wearing on the wedding day of her sister or friend. The design of the dress, its neckline and the length of its sleeves should be taken into account, while deciding the types of the necklace, earrings and bracelets that will add grandeur to the look of the bridesmaid.
Balance but not outdo the bride's getup: The wedding dress and the jewelries of the bridesmaid should complement that of the bride, but meticulous care need to take to ensure that the bridesmaids do not appear to be more gorgeous than the bride, as it is customary that the bride should be the center of all attention during her wedding ceremony.
Venue of the wedding ceremony: Both the bride's and the bridesmaid's attires will depend on the site of the marriage ceremony, as nowadays many people prefer to hold their weddings outside the church; for example, on a beautiful garden or an attractive sea beach. The whole costume of the wedded couple and the people accompanying them should match the surroundings of that site and the bridesmaid's jewelries
too should be purchased in accordance with that idea of the wedding.
The choice of the bridesmaid should be asked: The bridesmaid's jewelries are not only bought as a part of mere wedding customs, but it is considered as a token of love and affection from the bride to that girl and she is supposed to cherish it for the whole life. So it is desirable that the bridesmaid can receive this gift that will match to her preferences regarding jewelries, as every girl has individual choices about what they should wear.
Shopping from reliable stores and well ahead time:  Any shopping for a wedding, including the purchase of wedding jewelry
sets for bridesmaids should be done from the well-known shopping stores, which have got good collections of wedding related materials. Moreover, all bridesmaid jewelry sets should be bought long before the wedding date, so that nothing can go amiss due to the hurry.
Bridesmaids Jewelry Sets Makes A Bride More Beautiful